Voices
-
bio
-
repertoire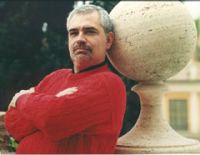 Instrument: Baritone
He studied vocal technique with the soprano Isabel Gentile in Rome. He was very young when hired in RAI Choir of Rome and eventually in S. Cecilia's National Academy. He took part in the opera movie "Rigoletto" directed by Jean-Pierre Ponnelle, a fundamental meeting for his successive artistic career. He then specialized at the Salzburg Mozarteum and the Musikhochschule of Köln with Hartmut Höll, thus pursuing his interest for the Lieder Repertoire.Initially he focused on the study of the Classical Opera Repertoire, though he had been always keeping in great consideration the Ancient Music's one as well. He is finalist in the "Toti Dal Monte" Competition in Treviso and in the "Sperimentale" in Spoleto, and was the winner of both the "Laboratorio Lirico" Competion in Alessandria and "L'Accademia Barocca" in Rome.In the ancient and Baroque Repertoire he constantly cooperates with Fabio Biondi and EUROPA GALANTE (the recording of Scarlatti's Caino awarded with Diapason d'or; premiere execution and recording by Virgin of Scarlatti's SS. Trinità; staging of Scarlatti's works by Massimo Puppieno; Il trionfo dell'onore (ABBIATI PRIZE 2001); La Principessa fedele e Carlo Re d'Alemagna at the Teatro Massimo of Palermo; execution of Vivaldi's La Senna festeggiante at the Théatre des Champs-Elysées in Paris, Haendel's Lucio Silla at S. Cecilia's National Academy, Cavalli's Dido at the Fenice in Venice and at the Carignano of Tourin, Haendel's Messiah in Madrid, Valencia and Barcelona) and with Rinaldo Alessandrini and CONCERTO ITALIANO (ABBIATI PRIZE 2002), Jommelli's L'isola disabitata at the Rome's Opera, Il combattimento di Tancredi e Clorinda recorded by Opus 111, awarded with "Choc de l'annee 1999" performed in Paris, Bordeaux, Montpellier, Bruxelles, Madrid, Köln, Oslo, Tokio, Kyoto, Singapore, at the Colon in Buenos Aires and in S. Paulo do Brasil).In Italy he has performed at the Maggio Musicale Fiorentino, at S. Cecilia's National Academy in Rome, at the Fenice Theatre and Biennale of Venice, at the Regio Theatre of Tourin, at Massimo Theatre in Palermo, at the Filarmonico Theatre in Verona, with the RAI National Orchestra, with the Verdi Orchestra and the Pomeriggi Musicali's one in Milan, as well as the Toscanini Orchestra, the Orchestra Regionale Toscana and l'Orchestra di Rome e del Lazio.Abroad he has performed in Monte Carlo, Lyon, Niece, Lisbon, Barcelona, Madrid, Bilbao, Vienna, Manchester (BBC Philharmonic), Bruxelles, Budapest, New York, Washington, Toronto, Mexico City, Istanbul, Taipei, Hong Kong, etc.).
Among the others, he has cooperated
with the conductors: Myung Whun Chung, Zubin Mehta, Gianandrea Noseda, Bruno Bartoletti, Michel Tabachnik, Mario Ancillotti, Marco Angius, Luis Bacalov, Umberto Benedetti Michelangeli, Carlo Boccadoro, Daniele Callegari, Gabriele Catalucci, Erasmo Gaudiomonte, Claire Gibault, Alberto Maria Giuri, Sandro Gorli, Giuseppe Grazioli, Will Humburg, Lothar Koenigs, Francesco Lanzillotta, Lu Jia, Fabio Maestri, Karl Martin, Enrique Mazzola, Andrea Molino, Ennio Morricone, Marcello Panni, Evelino Pidò, Alessandro Pinzauti, Flavio Emilio Scogna, Stephen Solltesz, Vladimir Spivakov, Arturo Tamayo, Jonathan Webb.
For the Ancient and Baroque Repertoire he has cooperated with: Filippo Maria Bressan, Alan Curtis, Alessandro De Marchi, Gabriel Garrido, Marco Longhini, Charles Mackerras, Andrea Marcon, Simon Preston, Giorgio Sasso, Jordi Savall, Sergio Siminovich, Sergio Vartolo, Alberto Zedda; as well as with directors as: Daniele Abbado, Pier'Alli, Mauro Avogadro, Giorgio Barberio Corsetti, Robert Carsen, Giancarlo Cobelli, Tonino Conte, Claudio Di Palma, Marisa Fabbri, Orlando Forioso, Giorgio Gallione, Deni Krief, Davide Livermore, Walter Le Moli, Pierfrancesco Maestrini, Valter Malosti, Mario Martone, Pierpaolo Pacini, Pierluigi Pizzi, Jean-Pierre Ponnelle, Mario Pontiggia, Giorgio Pressburger, Adalberto Rosseti, Maurizio Scaparro, Marina Spreafico, Gabriele Vacis, Massimo Venturiello, Stefano Vizioli.
Particolarly interested in the Contemporary Music Repertoire, Roberto Abbondanza has performed works by S. Barber e L. Bernstein (Arias and Barcarollas), L. Bacalov (Misa Tango), B. Britten (War Requiem), C. Boccadoro (A qualcuno piace tango and Robinson), S. Bussotti (The Rara Requiem at the Fenice Theatre and Tieste at the Opera Theatre in Rome), L. Dallapiccola (Il Prigioniero and Volo di notte at the Maggio Musicale Fiorentino ABBIATI PRIZE 2004 and in Mexico City), F. Donatoni (Alfred, Alfred), H.W. Henze (Elegy for young lovers at the Muse Theatre in Ancona ABBIATI PRIZE 2005), B. Maderna (Satyricon), F. Malipiero, L. Nono (Epitaffi At the Biennale of Venice), A. Pärt, G. Petrassi, A. Schönberg, I. Strawinskij (The Flood at the Muse Theatre in Ancona).
He has even performed several world premiere, as the operas and works by L. Bacalov (Estaba la madre at the Opera Theatre in Rome, Un Ingenioso Hidalgo in Messico for the Cervantes' centenary, Y Borges cuenta que… at the Accademia Chigiana), M. D'Amico (Farinelli, la voce perduta, for Operaincanto, Dannata Epicurea at the Massimo Theatre in Palermo), J. Adams (The death of Klinghoffer), F. Del Corno (Orfeo a fumetti and Non guardate al domani), M. Di Bari (Camera oscura at the Biennale of Venice), I. Fedele (Antigone, at the inauguration of Maggio Musicale Fiorentino 2007 ABBIATI PRIZE 2007), L. Francesconi (at the RomeEuropa Festival), M. Frisina, C. Galante (Combattimento con l'angelo at the Massimo Theatre in Palermo and La Tempesta at Carignano Theatre of Tourin), P. Glass (Songs of Milarepa at the Sagra Musicale Umbra; Nella colonia penale at the Piccolo Regio Of Tourin e per il Carlo Genova e The Sound of a voice ancora al Piccolo Regio of Tourin), L. Gregoretti (L'ultimo avventore), J. Mac Millan (Parthenogenesis), E. Morricone (Cantata Narrazione per l'inaugurazione della Basilica di S. Pio da Pietralcina and Canto del Dio nascosto in testi di Karol Woytila), L. Mosca (Signor Goldoni at the Fenice Theatre of Venice), M. Panni (Il giudizio di Paride at the Opera of Nice), F. Pennisi (Tristan at the Comunale Theatre in Boulogne), A. Sbordoni (Jekill), F. E. Scogna (La memoria perduta at the Opera Theatre in Rome) F. Vacchi (Les oiseaux de passage at the Comunale Theatre of Boulogne and Il letto della storia at the Maggio Musicale Fiorentino ABBIATI PRIZE 2003).
He has recorde with Virgin, Opus 111, Naxos, Stradivarius, Dynamic, Tactus e Fonè.

Updated to 2007