Voices
-
bio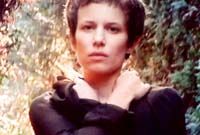 Instrument: Voice
Sonia Bergamasco was born in Milan, where she earned degrees in piano at the Giuseppe Verdi Conservatory and in acting at the Piccolo Teatro School directed by Giorgio Strehler. She made her debut in Goldoni's Arlecchino servitore di due padroni (The Servant of Two Masters) directed by Strehler and went on to work with Massimo Castri, Glauco Mauri and Theodoros Terzopoulos. She also played the Fairy in both the theatrical and televised versions of Pinocchio, directed by and starring Carmelo Bene.
She directed and performed Giorni in Bianco (White Days), a monologue based on "The Thirtieth Year" by Ingeborg Bachmann, and debuted as a writer for the stage in the concert-show Orfeo bambino (Baby Orpheus). For the 2007 edition of the International Festival of Children's Literature, she created the performance La voce viene da molto lontano (The Faraway Voice), from a story by Antonio Skàrmeta. In 2008 she directed and performed Croce e delizia (Torment and Delight), a recital-concert in which she also played the piano. In 2009, she performed two new works for theater: The Concert of the End of the World, manifesto for an anticanzoniere, a performance-concert for which she also carried out the poetic and musical dramaturgy; and 'S' as in Salomè, the sound theater of Mallarmè, in collaboration with Tempo Reale in Florence.
In films, after making the short D'estate (In Summer) directed by Silvio Soldini, she played the leading role in Giuseppe Bertolucci's L'amore probabilmente (Probably Love). She was a member of the outstanding ensemble cast of La meglio gioventù (The Best of Youth) directed by Marco Tullio Giordana (winning a best actress Silver Ribbon at Taormina in 2004). She also received the Flaiano Prize in 2005 for her role in Liliana Cavani's De Gasperi. Again with Liliana Cavani, she played a leading role in the 2007 film Einstein. She was directed by Franco Battiato in two films: Musikanten and Nothing Is As It Seems, and she also worked with Giacomo Campiotti, Giuseppe Piccioni and Riccardo Milani.

She devotes herself to the repertory for singer-narrator that ranges from Romantic melodrama to 20th century and contemporary concert works for voice and ensemble or orchestra. She performed Pia de Tolomei in the chamber opera ¿Pia? by Azio Corghi (at the Settimana Musicale in Siena). In 2006 she sang Donna Elvira in the world premiere of the opera Il Dissoluto assolto (The Libertine Absolved) by Corghi, with libretto by José Saramago (at Teatro San Carlo, Lisbon and Teatro alla Scala, Milan). She then performed in Le due Regine (The Two Queens), Azio Corghi (released as a Ricordi CD). She subsequently performed the role of Belisa in Don Perlimplin by Bruno Maderna for the Venice Music Biennale. She performed Poudre d'Ophélia! (... Ophelia's Face Powder!) by Azio Corghi at the Teatro Lirico in Cagliari. Together with Fabrizio Gifuni she wrote and performed the musical show I Kiss Your Hands, a semi-serious catalogue of Mozart's letters and The Sacred Strings of Cantos, a musical/poetic journey through some of the most famous cantos of The Divine Comedy by Dante Alighieri.
In 1999 she recorded Schoenberg's Pierrot Lunaire (on the ARTS label) and in 2005, the CD Recitarsonando, an anthology of melodramas for voice and piano (for RaiTrade) together with pianist Vsevolod Dvorkin. Furthermore, she collaborates regularly with pianist Emanuele Arciuli.
Updated to 12/2010